In spite of  various limitations due to the Covid pandemic we were able to go to Sudan in order to make the basic documentation that was indispensable to prepare the further stages of the project.
Documentation of the vicinity of Miseeda
The surrounding area of the church at the site MAS021(see below)and the nearby area have been documented by means of a drone as a preparation for further investigation. On the plateau south of the church several illegal digging holes have been recorded (fig. a, b, c, d).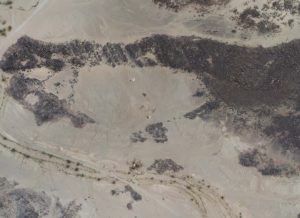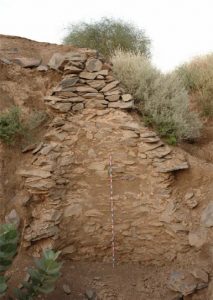 As a result of this  at least one of  the structures recorded during the survey (FAR003), can be identified as a well shaft.
Documentation of the site MAS021
The preparatory season consisted of documentation works that will be basis for the preparation of the project of protection and conservation of the church building.
Orthophotographs of the Church and the vicinity were taken and the visible mudbrick structures were measured with a total station. On the basis of this an updated plan of the visible part of the church was created.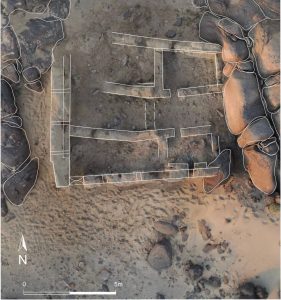 Samples of mudbrick were collected in order to perform strength tests and implement the method of bio-calcification. Samples of outer and inner plasters were taken to reconstruct the technology of plastering and painted mural decoration, which will be the basis for the planned restoration programme.
Activity in the field lasted from 5 till 12 of February.