Our results of the first fieldwork season were presented during the 15th International Nubian Conference held at the University of Warsaw, 29th August – 4th September 2022.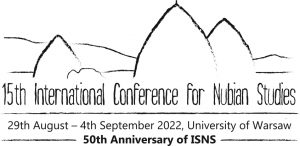 Ahmed Elhassan Water management in the vicinity of the Church at Miseeda
Paweł Polkowski Beyond the Church: Rock art research in the surroundings fo Miseeda village.
Katarzyna Rosa Local traditions and external inspirations. Preliminary inside view of pottery workshops in Miseeda region.
Dobrochna Zielińska The Re-interpretation of a Kushite Image in Christian Context. A case study of the  iconographical programme of the sanctuary of the church at Miseeda.
Dobrochna Zielińska, Yask Kulshreshtha, Henk Jonkers, Karel InneméeA bio-based liquid impregnation system. First results of consolidation of
adobe bricks from the church at Miseeda.
---
First impressions after the season were presented on a poster during the annual congference of the Faculty of Archaeology UW "The Past has a Future!"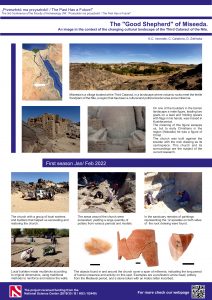 and presentation during the annual conference Polacy nad Nilem (Poles on the Nile)
---
The results of preliminary season in February we could share during the 5th Conference of Sudan Studies that was held in Warsaw, 4-5.09.2021.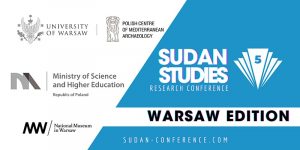 ---
First public presentation of the project during the NubiaFEST 2020 online conference:
https://nubiafest.unionfornubianstudies.org/events/49/